Top 10 Minimalist Watches
Minimalist watches. Time-telling mechanisms that are utilitarian, modern, and sometimes works of art in themselves. Their main function is to tell time, but more importantly look great doing so. This is something that is easier said than done. Thanks to social media, the Minimalist Watch movement has taken off and become a mainstream category in watches.  This is a great thing because it introduces minimalist design principles to the people (and lets them look good while learning).  A minimalist watch is the modern-day equivalent of a pocket-watch from the past. It has one job of telling you time and it didn't even take a watchmaker months to make a single one.  This list of 10 Best Minimalist Watches includes options that are both affordable and expensive to cater to all users needs. So take the time to look through the article we've put together, showcasing various watches all with one theme: minimalism.
Beautiful, Minimal Watches are often hard to find.  We are often distracted by large bulky watches that are simply meant to make a statement.  Sometimes simple is better! Here the elegantly minimal design of the BulBul Ore 2 is a perfect compliment to any attire.  It's clean, simple design sits nicely on your wrist and will be sure to be a conversation starter.  Trust me, I have one and it is constantly getting compliments and breaks the ice in talking with other random people.  Made with only the best materials, this is a must have for anyone.
Click HERE for more info on Amazon! Free 2 day shipping with Amazon Prime!
Byron Bond Watches are a collection of minimal watches that are classically British.  Their modern aesthetics and unique elegance offer a bold new interpretation of the classical wristwatch.   The company combines the minimal aesthetic with the elegance of British design.
Click HERE for more info on Amazon! Free 2 day shipping with Amazon Prime!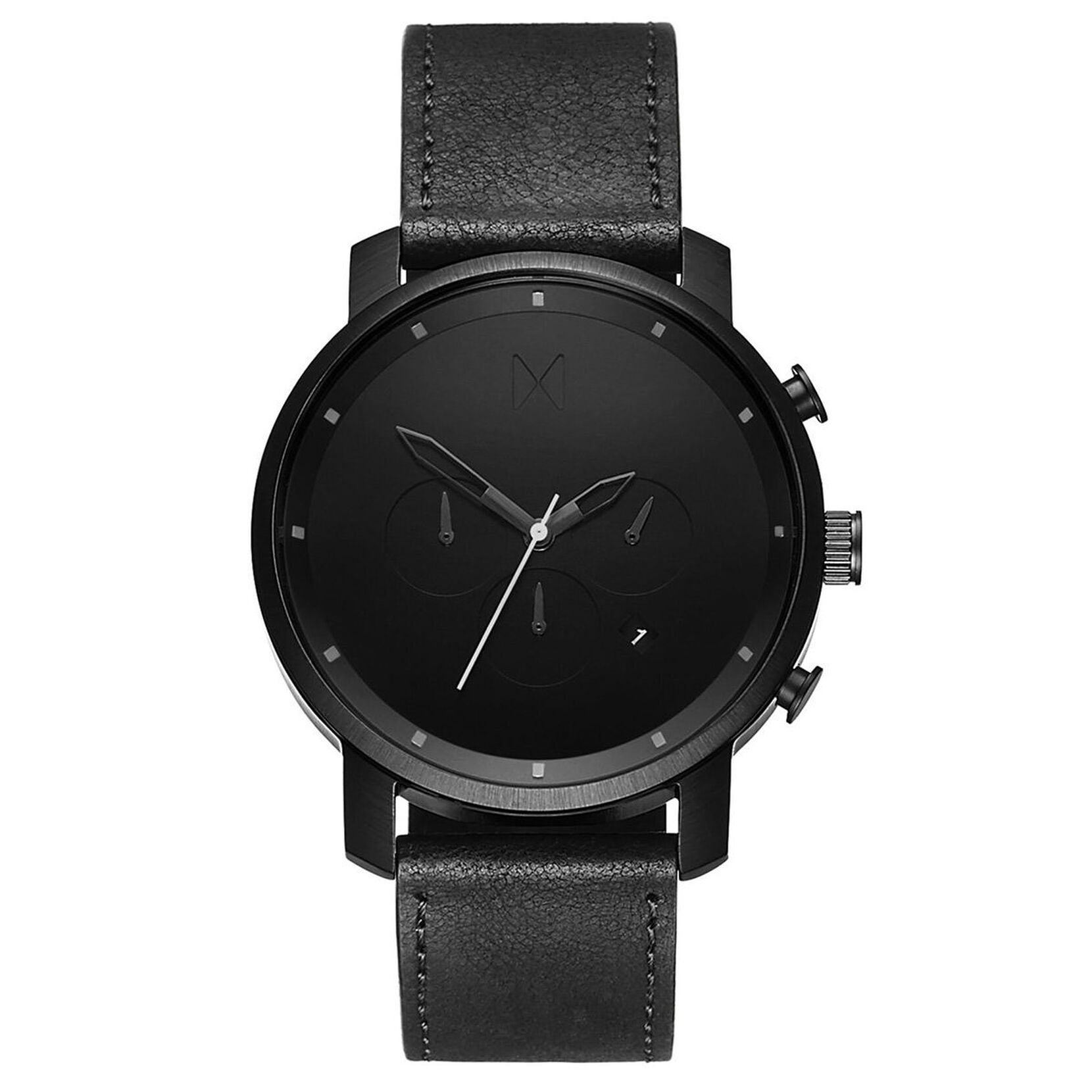 Usually a chronograph watch feels quite busy with all of its knobs and dials. MVMT Watches easily overcomes this problem with a triple chronograph watch that is both simple and refined. This modern watch embodies the brand's straightforward approach to modern, stylish design. The modern minimal watch boasts a 45mm case with crisp clean lines.  The three subdials will make sure you know exactly what time it is in multiple locations.
Get it with here with free 2 day shipping on Amazon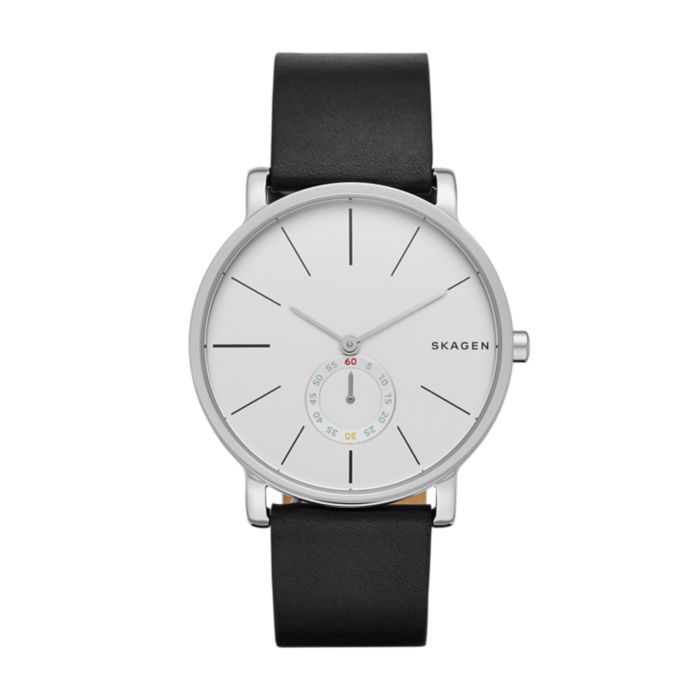 The Skagen Hagen Leather Watch is a supreme example of a beautiful minimal watch.  The clean silver circular casing provides an elegant backdrop to the minimal number free watch face.  The leather straps provide a nice feel around the wrist and this watch movement has a nice weight to it. We would definitely recommend this for anyone dressing up or pairing it with their everyday apparel.
Grab it here on Amazon with Free 2 Day Shipping
Inspired by ultra minimal Danish design principles, Skagen delivers with its Hagen Watch, a clean iteration available in a just-right 40mm case diameter. The subseconds eye adds a nice touch of visual interest, too. To finish things off, the watch is molded with a technique designed to mimic the horizon's arched lines, and the results are just as stunning. This watch is definitely boardroom-ready.
This Braun Ceramic Analog Watch in all black is simply stunning.  The clean lines and ceramic casing make this watch stand apart from the rest.
Like Miansai and others, Braun is another brand that knows what it's doing in regards to crafting refined, minimal watches. It's been a leader in the category thanks to its distinctive looks, and the Ceramic Analog Display Watch is no different. The 39mm case diameter should be just right, and the construction of this watch should definitely be sturdy — and stylish — enough to handle everyday wear.
Pentagon has found a unique and clever way of displaying time in the developed 'HYGGE 3012' – a series of simple, functional watches crafted to highlight the display.  The watch series highlights several unique color combinations to tell time.  The logic of the timepiece face is simple; the bottom disk indicates hours and top disk minutes. the crown construction reduces distractions while viewing the display; placed inside a case allowing it to be pulled out when needed. the stainless steel enclosure is sandblasted to provide a matte finish in both silver and black, extending the quality of manufacturing processes, materials, and mechanical design into a functional and durable product.
The Tsovet SVT-SL37 is a combination of a sophisticated past and a modern future.  The Tsovet SVT-SL37 is reminiscent of an older time piece, but now has a clean elegance.  The gold color stainless steel casing provides a nice pop of color and a great frame for the interior minimal watch face.  The watch has a wonderful feel to it from its beautiful leather straps to the nice weight of the swiss quartz time piece.
Check it out on HERE on Amazon
The Uniform Wares M40 is a sophisticated minimal watch coming out of the Uniform Wares Studio. The M40 has a nice weight and feel to it and a utilitarian feel.  The watch face is elegantly composed, though precisely warked. The M40 watch sees a handy date function so you can tell more than just the time. Plated in rose gold, the stainless-steel casing of the timepiece is paired with a Milanese calf leather strap for luxurious texture and design detail. Joined with the scratch and water-resistant properties, this premium accessory stands true to the Uniform Wares ethos – creating watches that are both progressive and classic.
The Junghans Max Bill Automatic Mens Watch is truly a work of art.  This watch is considered a classic of the modern watch movement and has been something to live up to since 1962.  While being a bit on the pricey side for modern minimalist watches, it is truly of the highest quality.  Crafted in Germany with love, this watch has a minimal face with numerical markings having a slightly retro feel.
Check it out on Amazon with free two day shipping
The Komono is a simple and fun minimal watch.  The quirky placement of the company logo is a nice touch to the watch.  While there are many color options and combination, my favorite is the all black, with the subtle differences in hues to tell the time.  It's simple. It's fun. You can dress it up or down, and by God is it affordable.  A nice little daily beater that you can take out with you for after-work drinks. Very fun.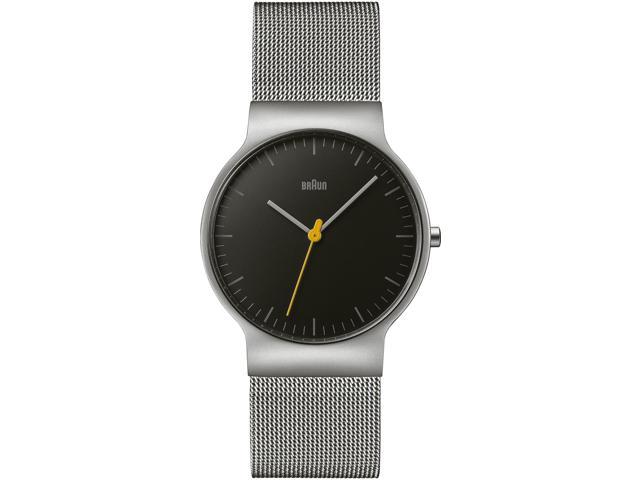 Another great design for a minimalist men's watch comes out of Braun. The Braun Men's  BN0211 wristwatch incorporates a silver metal bracelet with a stainless steel case that is a great compliment to the black face.  The watch has a solid feel to it and a great weight on the wrist.  The signature yellow second marker ands a welcome pop of color to the watch.  Dress it up or dress it down this is a great option for all occasions.
MVMT watches have become a common place name.  We have seen them explode in growth and heavily market on social media.  This overexposure typically renders a brand desperate and of low quality, but MVMT watches have created for themselves their own market. They are definitely good watches for the price. Their watches are typical of contemporary design combined with decent watch construction that makes a watch both versatile and super sleek. Throw an automatic movement in there and call it a day!  This particular model has a nice clean watch face similar to the Uniform Wares M40 with a casing nearly identical to the Skagen Hagen Leather Watch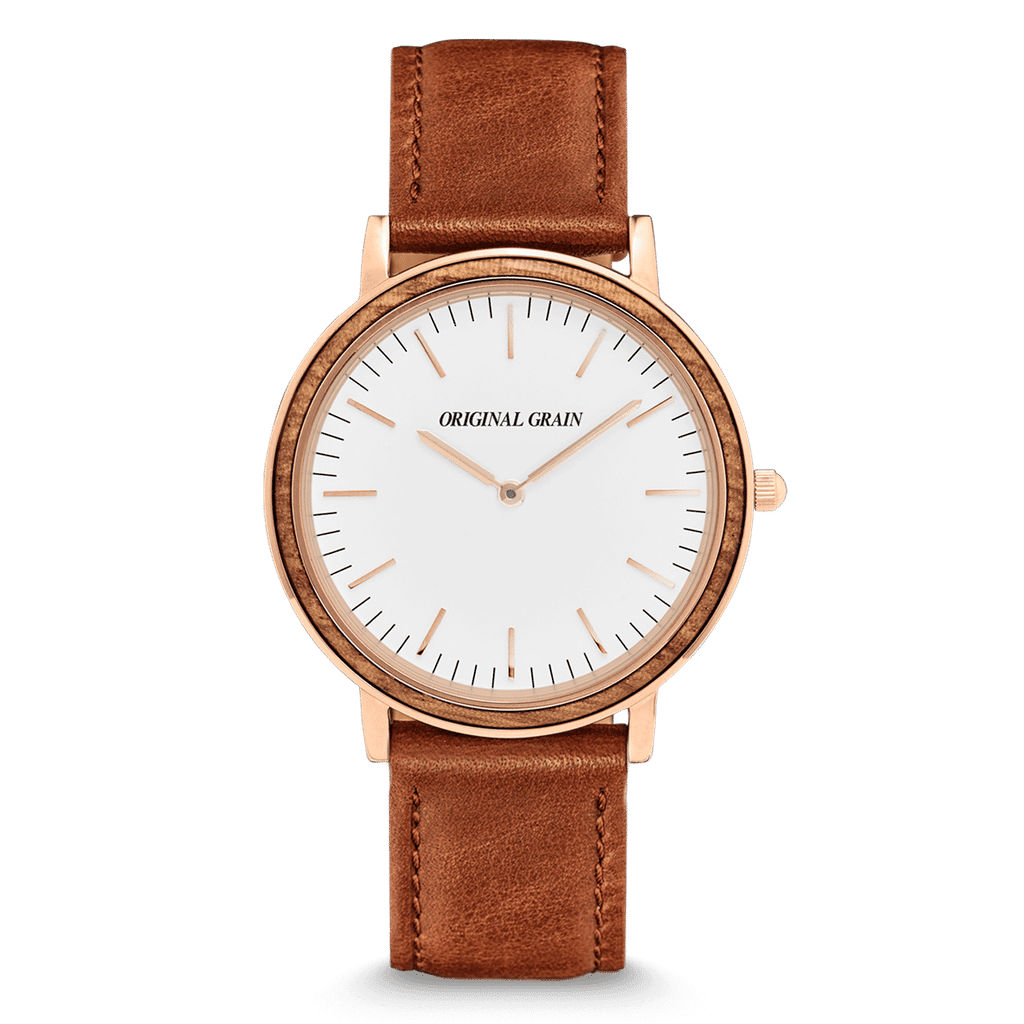 The Original Grain Minimalist Watch is a solid unique minimalist watch.  Bringing together sustainably sourced Zebrawood with a Rose Gold Stainless Steel Casing, this watch has a very warm feel to it.
Founded back in 2013 by a couple of brothers, Original Grain has blazed the trail for making handsome and functional wooden watches. It should come as no surprise then, that the brand's minimalist watch boasts the thinnest wood bezel ever cut. This wooden ring sits around the outside of a slim 40mm stainless steel case which itself holds a Japanese Miyota Citizen Quartz movement and a black sunburst face without any numerals. A unique and refined pick.
Pure form meets a functional, easy to read aesthetic. A 40mm Diameter face seamlessly meets the 18mm wide leather band to form a perfect union on your wrist.
Thanks for checking out our list! Another great list to check out is this one HERE