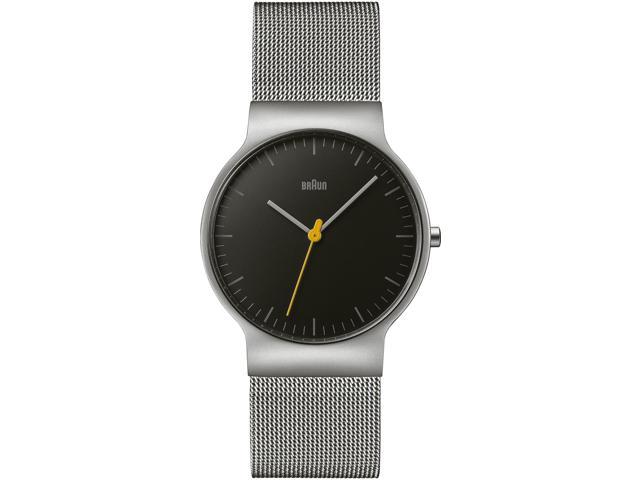 Another great design for a minimalist men's watch comes out of Braun. The Braun Men's  BN0211 wristwatch incorporates a silver metal bracelet with a stainless steel case that is a great compliment to the black face.  The watch has a solid feel to it and a great weight on the wrist.  The signature yellow second marker ands a welcome pop of color to the watch.  Dress it up or dress it down this is a great option for all occasions.
Braun's line of timepieces got their start way back in 1971 when the company teamed up with industrial designers Dieter Rams and Dietrich Lubs. The two applied their "Less is more" Bauhaus design philosophy, making it so every portion of their alarm clocks and watches had a functional purpose. This watch retains the same core values of those original timepieces with its simple look, easy to read second hand, and slim stainless steel face. To top it all off, it also features a sharp milanese stainless steel watch strap.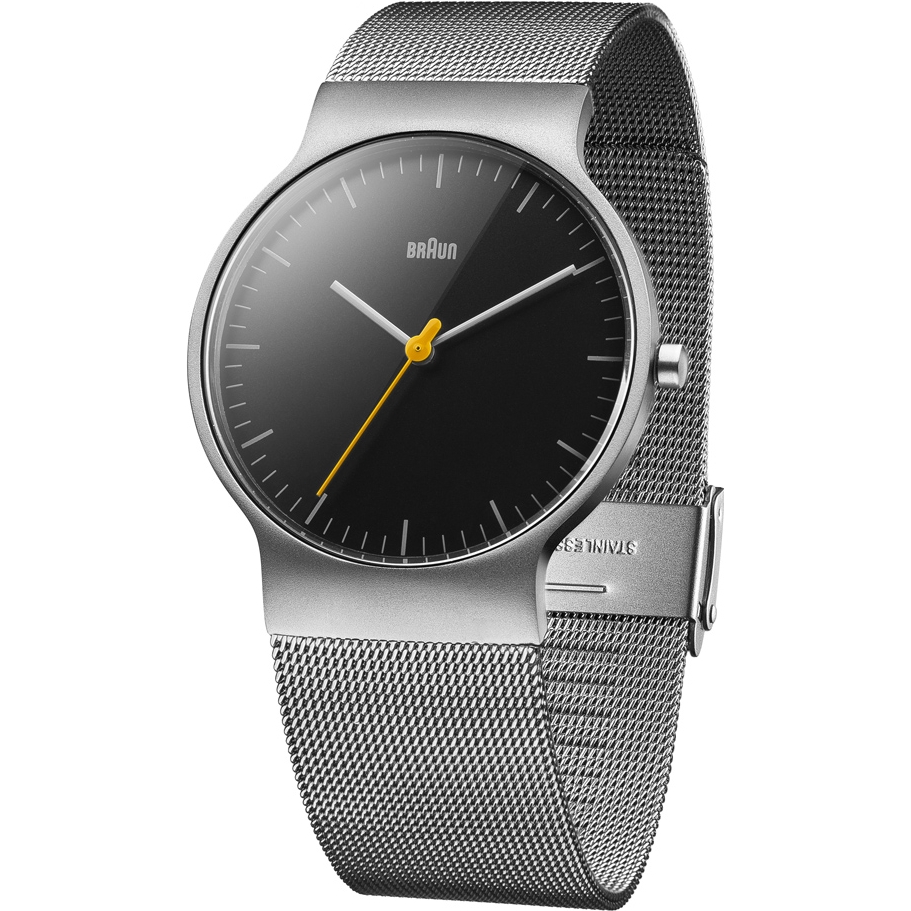 Braun mens watch. Silver stainless-steel case and black stainless-steel strap. Black dial. Japanese-quartz movement. Deployment-clasp closure. Water resistance of 30 meters.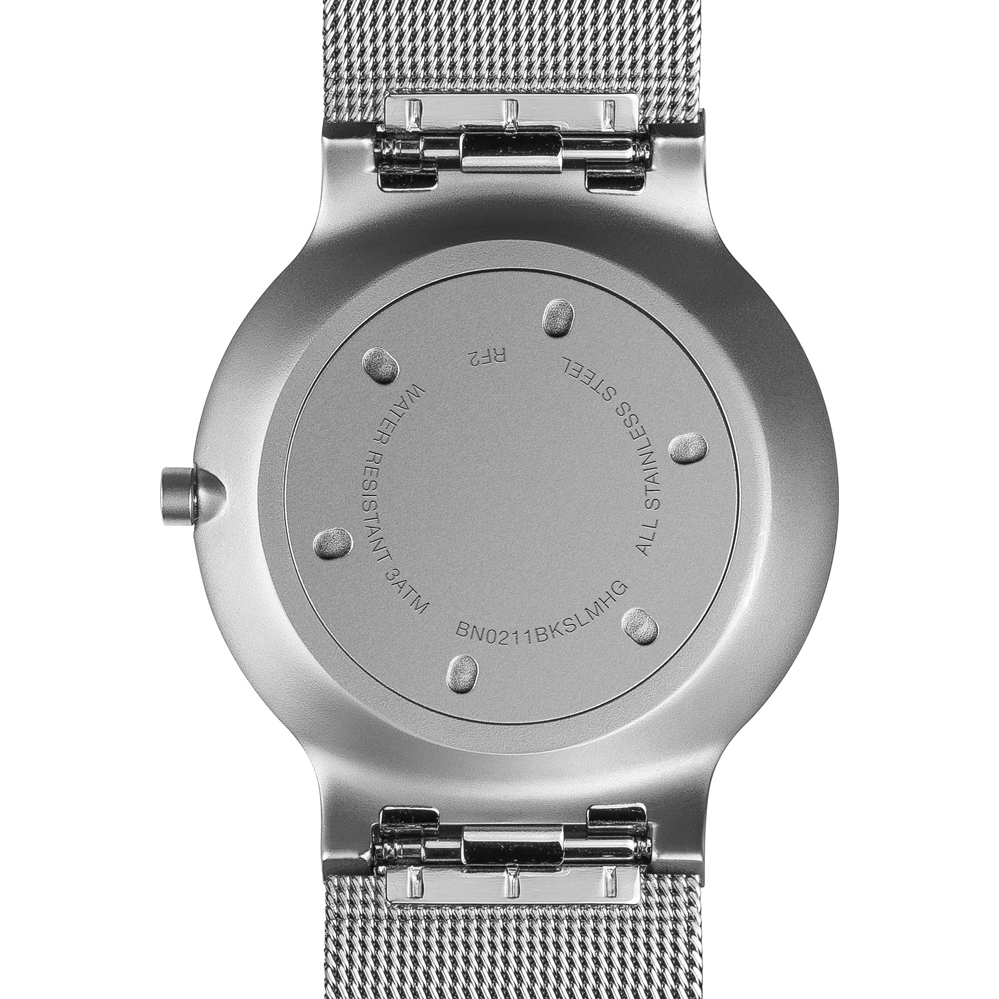 Men's BRAUN CLASSIC GENT WATCH. Milanese stainless steel strap. In 1971, Braun launched a series of travel alarm clocks and watches. The infamous German industrial designers, Dieter Rams and Dietrich Lubs were the masterminds behind the project; and, with their "Less, is more" design philosophy they produced a number of memorable products for Braun including some of the best travel alarm clocks around. Over the last 40 years, Braun time pieces were characterized by their pure, highly functional and timeless design with no superfluous details: Every feature directly reflects a function. Rooted in over half a century of modern design at Braun, the core values of functionality, quality and aesthetics are reflected in all clocks and watches. The strength of clarity and simplicity of their design makes them a pleasure to use and to own. The analogue clocks were manufactured with the intention to prioritize innovation and durability. The beautifully sleek structure and dial illumination, together with the slight graying back of the numbers ensures that the hour arms are clear and easily readable. All the clocks use precision German movements, known for their silent nature and high accuracy. A variety of models use radio controlled movements for complete accuracy of time. A selection of the very best classic clocks and watches have been recreated in keeping with the high standards of quality of the originals. At the same time, brand new designs on both watches and clocks take the collection further than ever before.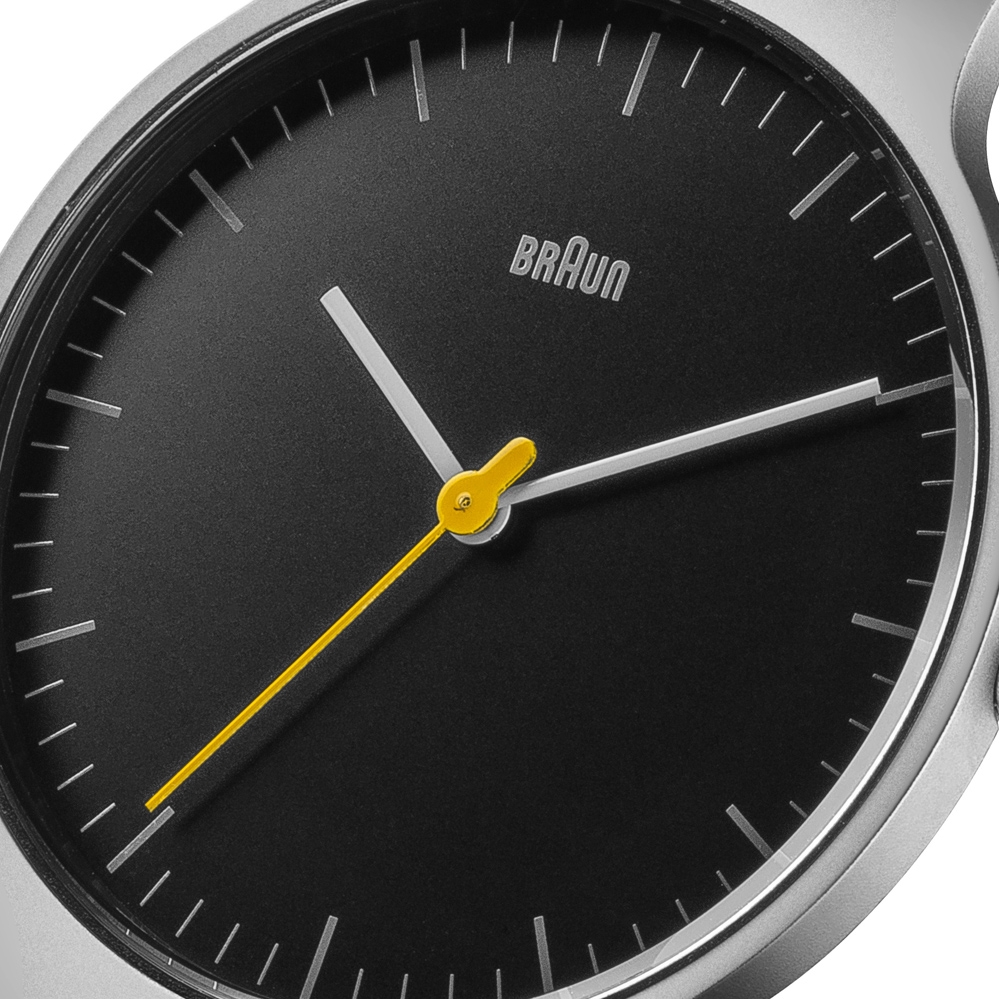 Ultra slim minimalist designer watch, 38mm stainless steel case, 99 ft. Water resistance, japanese-quartz movement

Case diameter: 38.0mm, water resistant to 99 feet

Japanese-quartz Movement

Case Diameter: 38mm

Water resistant to 30m (100ft): in general, withstands splashes or brief immersion in water, but not suitable for swimming or bathing
Please follow and like us: